Women With a 'Crunchy' Factor
3
min read
I've always been a great fan of Aesop's classic tale 'The Tortoise & The Hare'. I do believe the race is not won by the swiftest but by those who endure. Our capacity to succeed does not expire with age and it's never too late to discover our potential for we are all wonderfully gifted. With patience and the right circumstances, we can all bloom in amazing ways.
Last Saturday, hosting our sold-out CrunchyTalks event at Storyhouse in Chester, I got convinced about this even more. Life isn't about finding yourself. Life is about creating yourself and middle age is the right time to reboot our journey: a period of renaissance and expansion rather than contraction and winding down. Starting over in middle age is something more and more of us experience, sometimes because of a choice or unexpected circumstances, but a lot of us find ourselves turning down a new path.
Our brilliant panellists, for instance, found their true calling later in life but that doesn't mean they are less successful: they have learnt to deconstruct who they were before the world imposed upon them what they thought they should be. They redefined competence and success for themselves. Not convinced, yet? Take Jo Moseley, the first woman to SUP the UK coast to coast. She learnt to paddleboard in her 50s after menopausal symptoms gave her serious anxiety and knocked her confidence. Interior designer Jane Ashton is another brilliant example of midlife rebooting: she added Fashion Styling as a new string to her bow helping middle-aged women to get out of the bubble. Eileen Willett decided to give up her previous job launching -at the age of 50- together with Nancy Zeffman, 'Cucumber Clothing' a brand of revolutionary sustainable loungewear; Codilia Gapare found the strength to face breast cancer by creating the first-ever false eyelashes range for chemotherapy patients called 'C Lashes'. Midlife is also a time in which Sioned Jones currently CEO of The Circle, an NGO founded by Annie Lennox, discovered the potential in giving back her wisdom, experience, and knowledge and empowering the most marginalised women and girls across the globe.
Our 'crunchy' mission, resetting the meaning of midlife, is also a matter of challenging ageism, stereotypes and old clichés. Our events are not only a way to celebrate stories of late-bloomers but also a chance to reflect together upon several subjects. Midlife crisis is a myth, and if we don't let age define us it's not because we don't want to grow old but because we want to change the conversation around ageing. Our CrunchyTalks are a chance to help people recognise the subtle ways ageist ideas are perpetuated but also a platform to support each other when feeling stuck in the middle of our journey.
How can we foster an age-inclusive environment in our business or community? Last Saturday, our panellists presented their amazing examples of resiliency and endurance, but it's up to us, in everyday life, to encourage our society to stop using unnecessary negative language about ageing, and keep on promoting cross-generational events and programs where people of all ages can enjoy the wisdom and gifts middle-aged people have to offer.
****
Do you have the 'Crunchy' Factor?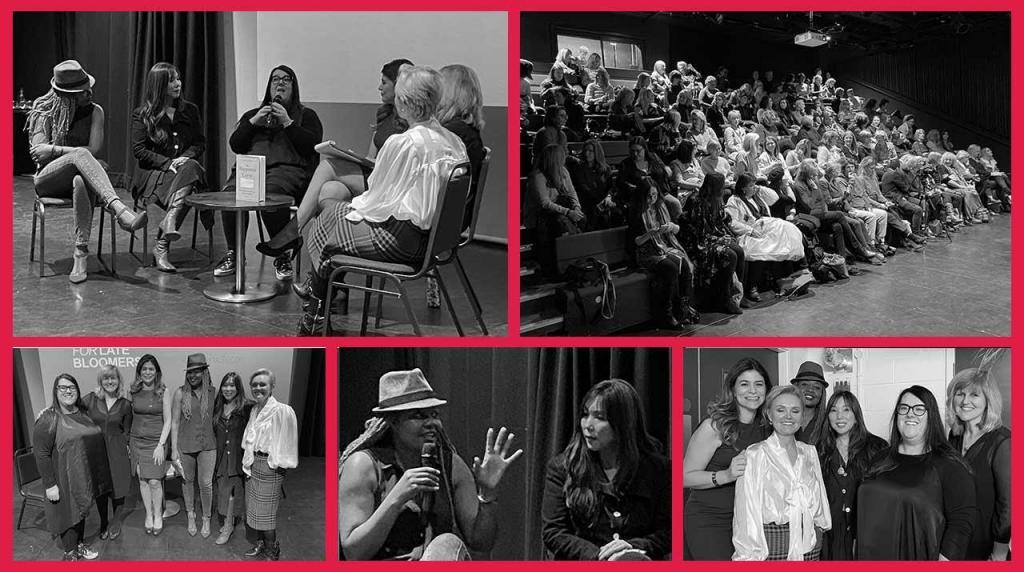 In order to get our audience involved in our mission, we are always looking for new members to join our community: women with a crunchy factor. What is that? It is something that makes a woman crunchy: a life-changing event, a new career, a wild hobby, an unexpected awakening, anything that you did to challenge yourself in the second act of your life – midlife. You can go and read of the stories we've already presented on our website, both in the "people" section as well as "my midlife" section.
If you think you have the crunchy factor, do contact us via email info@crunchytales.com or through our website. You can also refer your friend, sister, colleague or any other woman you think would like and deserve to have her story shared and heard by our community.